Building Blocks for Successful Search Engine Optimization by Creative365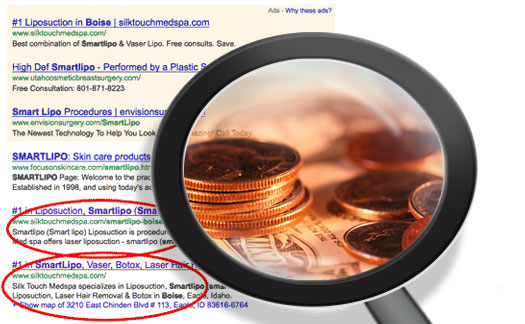 We find ways to drive new customers to your website and keep the existing audience coming back. Our goal is the help you achieve maximum conversion rates. We specialize in helping our clients expand their businesses by bringing them to the 1st page of Google and getting more visitors to their websites.
When we talk about our On-Page and Off-Page optimization packages, we use some terms that might be not very clear to you. So, in this section we are going to cover main "building blocks" for creating successful SEO strategies.
Please also check our blog that discusses it in more details.
Search engine optimization (SEO) is the process of improving the volume or quality of traffic to a website or a web page from search engines. The theory is that the earlier (or higher) a site appears in the search results list, the more visitors it will receive from a search engine. SEO may target different kinds of search, including searching for a specific, industry related word (usually called keyword), image search, local search, and video search. This gives a website what we refer to as Web Presence.
As an internet marketing strategy, SEO considers how a search engine works and what people search for. Optimizing a website (On-Page Optimization) primarily involves editing its content, HTML and associated coding to increase its relevance to specific keywords for a search engine.
SEO offers the highest return on investment for most businesses. All companies, from small businesses to the world's biggest Fortune 500 companies, rely on search engine optimization to market their websites, products, and services.
We offer 4 packages that cover all your needs regarding improving your ranking and getting more visitors to your website, and most importantly converting those visitors into your customers. Please check them out here.
Studies have shown that up to 80% of all Internet users find websites and information using keywords and major search engines such as Google, Yahoo, MSN, and AOL. Obviously, having a presence on these search engines is vital, and SEO can help ensure that your website gets seen on these Web search tools. If you want to get real results online, SEO is important for a number of reasons:
1. SEO alone offers one of the best returns on investment when it comes to online marketing. SEO is one of the most budget-friendly online marketing strategies available and one of the most powerful. To get started, all you need is an experienced professional to research keywords and create some content for you. This is often far less expensive than launching an entire ad campaign and can actually be more effective in driving more traffic to your website.
2. SEO can bring thousands of extra visitors to your website each month. There is virtually no limit to the amount of traffic a good SEO can drive. Top ranking positions for top keywords on Google can make your website visible in a whole new way; and that can mean more potential customers.
3. There are many keyword programs that promise you results in which you don't have to pay per visitor or for ads up front. Pay-per-click (PPC) programs, for example, allow you to bid on keywords and guarantee a top ranking in Google for a specific period of time. Online ads can ensure that your business name is visible when Internet users search for specific keywords online.
4. SEO reveal how people actually surf the Internet. Studies have shown that people are more likely to click on regular links than sponsored links. In fact, studies have found that users tend to click on 80% unpaid or "organic" links as opposed to 20% sponsored links when surfing the Internet. SEO also uses the actual words that people are putting in when they search for a business like yours. With the right SEO, you find customers easily because you are not forcing customers to change their surfing habits. SEO lets your name appear for top keywords in non-sponsored listings – exactly where customers look when they are seeking for information.
5. SEO helps build your credibility and image online. Many online users tend to trust a search engine. When your company name ranks highly in a trusted search engine such as Google, customers tend to trust your company a little more. Since you rise above the competition in search engine, some customers assume that your company can rise above the competition in other ways, as well. Plus, SEO ensures that your company name will be seen more often and more frequently in search engine results pages. This high visibility can help build brand identity and recognition.
Articles
Writing articles has always been a great way to get publicity and sales, but it's also important for search engine optimization purpose. Their great advantage is that articles provide high-quality one-way links to your site (these links are placed in the author's bio area). Most article websites allow 2 links per article. What is even more important is that the articles and blogs can use your keywords and create theme-related content for your website. So, if readers are interested in your subject, you can invite them to visit your website. Many of the Article websites have a high ranking.
Blogs
These blogs are similar to your landing pages or articles. You can create blogs on different topics related to your industry, this is a way to engage people into a conversation. It also connects to your website, you can refer your readers to go to your site for more information.
Video Directories
The best one is youtube. It gets a lot of views and now it allows to write a description to your movie as well as to leave a link to your website. You can also submit keywords,...
So, if your business is about, let's say, traveling to Hawaii, then with proper optimization, when people search for "Hawaii travel", your website, your blog, your article or your video will pop on the first page. Or better yet, if they pop all together..
Pdfs and Press releases
The same applies to press releases. They mention your latest services, products,...
Website Directories
These are similar to the Yellow pages... There are hundreds of directories on the internet. Some of the directories have a very high ranking (PR6+), some don't have any value. The best directories are paid ones - like Yahoo ($299), others are free. When submitting your website to a web directory, you submit the Title, Description, keywords and a link to your website. For each business, you pick a category and a subcategory where your business will be listed, for example - Travel, Hotels,...
Social media marketing campaigns such as Facebook and Twitter usually center on efforts to create content that attracts attention, generates online conversations, and encourages readers to share it with their social networks. The message spreads from user to user and presumably resonates because it is coming from a trusted source, as opposed to the brand or company itself.
Social media has become a platform that is easily accessible to anyone with internet access, opening doors for organizations to increase their brand awareness and facilitate conversations with the customer. Additionally, social media serves as a relatively inexpensive platform for organizations to implement marketing campaigns. Organizations can receive direct feedback from their customers and targeted markets.
Creating a campaign that actively engages with your potential customers who live and breathe on these sites can be very beneficial to your marketing efforts.
Call us today at 1-805-407-7780 to schedule your free consultation and find out more information on how Social Media Campaigns can work for you.
Pay Per Click (PPC) is an internet advertising model used on websites in which advertisers pay their host only when their ad is clicked. Remember, when you search for something on Google, you see a bunch of ads at the very top and on the right hand side? These are paid ads. Search engine advertisers typically bid on keywords or keywords phrases relevant to their target market. Content sites commonly charge a fixed price per click rather than use a bidding system.
Cost Per Click (CPC) is the amount of money an advertiser pays a search engine and other internet publishers for a single click on its advertisement that brings one visitor to its website.
These ads can be an effective method to reach your target audience, however, they could also be expensive. Analysis of your market and competition can determine if search engine marketing (SEM) is the way to go. PPC is a great add-on to an SEO campaign and a great way to test the market and compliment the search engine optimization...
An important and often skipped step in a proper online marketing campaign is conversion rate optimization. If your SEO, PPC, and Social Media Campaigns bring in 30,000 visitors a month to your website, but only 100 of them turn into leads, and out of those 100, only 5 turn into customers, you have a very low conversion rate, and therefore, a very poor return on investment.
On average, e-commerce sites online have a 1-2% conversion rate to sale. This is actually very high comparing to TV, radio, or outdoor advertising campaigns. However, if an online marketing company simply focuses on bringing traffic and/or visitors to your site, but they are not targeted, or your website isn't set up properly to convert them to leads or sales, this is where conversion rate optimization could benefit you.
We research your industry and come up with a list of websites where we suggest to place promotional web banners. For example, to promote a hotel, we would suggest to place banners on Expedia, Orbitz, Hotels.com or other similar websites. We contact a publication, get the sizes of their ads as well as prices for each size and then discuss with you various options of the ads placements. We create the web banners according to the publication specs and submit them.
Free speech laws have allowed individuals and businesses to openly express their opinions about you and your business over the Internet. This freedom of speech has proved to be both positive and negative for businesses hoping to retain clientele in the form of customer service reviews.
Removing these less than reputable comments completely from the Internet is difficult to near impossible, however there are options. Our reputation and brand management services can move these comments down in the search results to make them less visible from 95% of the users that search for your company or name.
Increasingly, companies are utilizing interactive social media, such as blogs, Twitter, and Facebook, as tools in their public relations (PR) campaigns. Unlike the traditional tools, such as press kits, which allowed for only one-way communication, social media allows the organization to engage in two-way communication and receive immediate feedback from their visitors.
Reaching your target audience in the millions has become not only easier through the Internet, but extremely cost-effective. Online PR is a service offered by Creative365 where we put your business in front of your customers. The lead times are faster, the conversion rates are higher, and everything is trackable.
Call us for a consultation!
Web analytics is the measurement, collection, analysis and reporting of Internet data for purposes of understanding and optimizing Web usage. Web analytics is not just a tool for measuring website traffic, but can be used as a tool for business research and market research. Through various analytics packages, such as Google Analytics, we are able to obtain pretty much every statistic about our website from the number of visitors, page views, etc. to gauge the popularity of the sites which will help to do the market research.
At Creative365, we provide free analytics for every one of our clients. Call us today for a free consultation and see what we can do for you.
if you have questions about SEO, different aspects of SEO or online marketing strategies or services, please don't hesitate to contact us. We will be happy to answer all your questions and give you a FREE estimate of your projects. We have a proven approach in bringing clients to their goals. Check out SEO testimonials from our clients and give us a call!