Website Design
Design from Scratch
Redesign
Updates and Maintenance
Web Hosting
Flash Ads & Banners
Graphic Design
Identity Design
Brochures / Catalogs
Flyers / Sell Sheets
Presentation folders
Posters / Banners
Packaging
Branding
Identity
Graphic Design
Website Design
Online Marketing
Content
SEO,
Online
Marketing
SEO
Online Advertising
Social Media
PPC Campaigns
Articles / Blogs
Printing
Brochures / Catalogs
Rack Cards / Flyers
Stationary
CD / DVD
Labels / Stickers
Car Magnets
And much more!
Here is what we offer for each of the categories
Quality website design from scratch
Website redesign
Website updates and maintenance
Domain registration / Web hosting
E-mail blast campaigns / Newsletters
Flash ads / Web banners
Video Shooting / Video Production
We take pride in our work, so when we build your site, we create it to our high quality standards. We design many types of websites and have packages to meet everyone's needs. Anywhere from a basic template, to a complete state-of-the-art websites - we do it all!
Identity creation - logo, bus. cards, stationary
Brochures / Catalogs
Flyers / Rack Cards / Presentation Folders
Posters / Banners / Billboards
Packaging
Advertising Materials / Magazine Ads
Direct Mail / Product Launch Campaigns
Our main priority is the quality of all our designs, we strive to create materials you company would be proud of. That's why our designs earned professional awards. We use state-of-the-art software & quality stock photography creating pieces ready to be printed.
Development of Corporate Identity - visual identity and corporate philosophy
Graphic Design Services - including logos, stationary, brochures, flyers, catalogs, billboards, presentation folders, ...)
Website Design and Development
Online Marketing
Print & Media Marketing
We've created successful identities for many of our clients.
Marketing
Social media marketing (Facebook, Twitter, ..) - company's presence in social medias
Online marketing and promotion
Print & media marketing - Newspapers & Magazines / News & Media / Billboards / Store ads, displays
Medical Marketing - we provide complete custom solutions for Medical Industry
For all your graphic needs. We offer special printing discounts for customers for whom we create graphic design materials.
SEO (search engine optimization)
Online advertising, web banners
Social media marketing (Facebook, Twitter,..)
Pay Per Click (PPC) campaigns
Article writing and submission
Submission to web directories
Blogging
We complete proper research of your industry and then help increase your business' website traffic through online marketing. We make sure that your website becomes easily searchable for new customers.
We work with Facebook, Twitter, MySpace, blogs, as well as through Google and Yahoo advertising.
Sample of Branding and Other Services
Take a look at the samples below - we've created identity, brochures, rack cards, videos, car magnets as well as we designed their website and promoted it to the 1st page of Google.
Stationary for La Nouvelle Medical Spa

Brochures, flyers, postcards and seasonal promotions, including printing services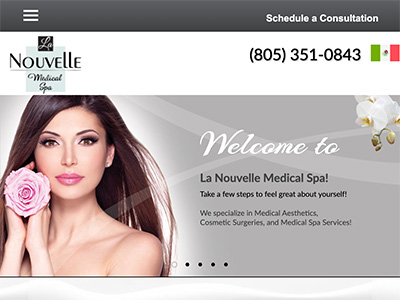 Medical website design with appointment and contact forms, as well as library of before and after photos, procedure videos and newsletters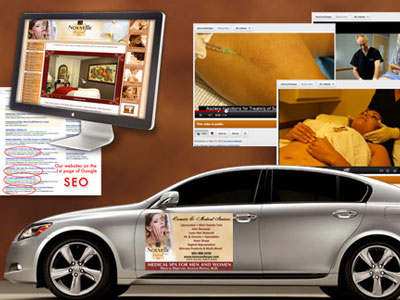 Online Marketing and SEO, Car magnets, Video shooting, production and submission

Request a Quote